If you only had an hour a day to grow your business do you think you could hit $10k months?
A funny thing happened last week. I got my time back. I had more time in my business last week than I had in the past 2 months. It helped me see how little time I have been running (and massively growing) my business in over the past couple of months and I'm going to tell you how to do the same.
In great news after the recent Corona virus restrictions, my daughter returned to school last week and my son also returned to his 3 days a week at daycare. On his second day back, I found myself staring blankly at the computer at 10.30am with nothing that 'needed' to be done in my business. My Most Important Tasks were ticked off for the day and my next client wasn't until 1pm.
I realised in the last two months I've figured out how to run my business in an hour a day. This is a business that grew to 5 figure months during the pandemic and has already hit through 5 figures this month (half way through) and is projected to continue this way.
I decided early on in March as the world began to change that I did not want to compromise on my vision – which has always been 5 figure months in 20 hours a week. If you are reading this near the Corona virus pandemic or years later, it doesn't matter, the message is the same, your circumstances do not need to determine what's possible for you. Seriously I had two small kids at home and almost no time to myself but I knew exactly what to do with that time to grow and that's what's made all the difference.
Whether you have kids at home, you work full-time or any other way your life looks, you can do this and be wildly successful in less time than it takes for some people's one way daily commute.
So how can you grow your business on an hour a day?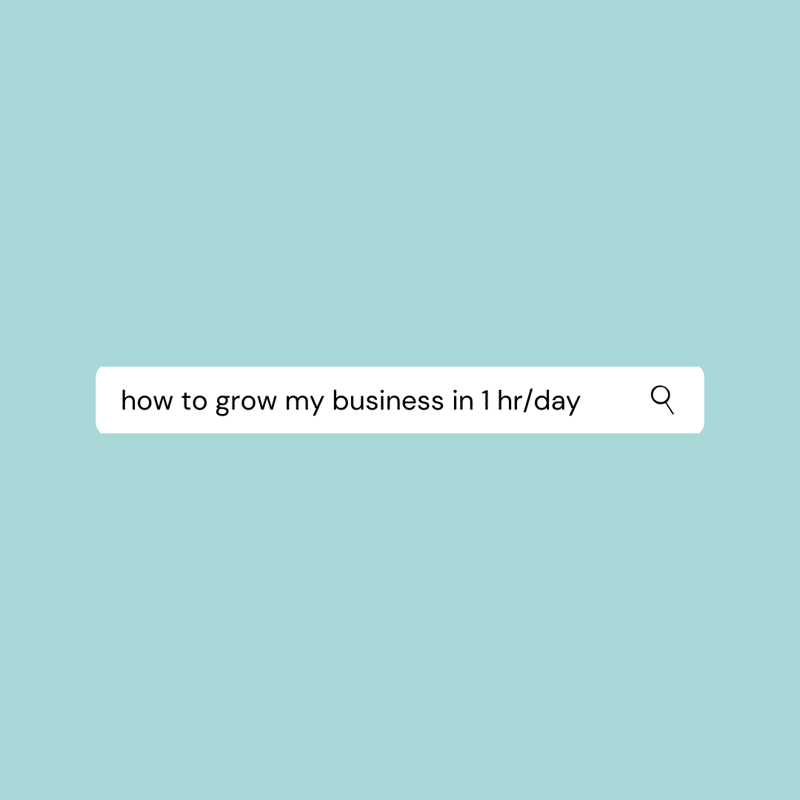 Turns out I'm an expert at this and I'm going to tell you….
Important note, an hour a day is the time spent on actually growing my business, of course I spend additional time working with clients and providing them with full behind the scenes support, that's what currently brings my working week on average to 20-25 hours per week. What I want you to see is that the tasks to sign clients or scale can be done in an hour or less a day, so let's get into it.
There's two concepts for you to takeaway and work on mastering:
Identify your revenue generating activities.
This is more likely to include tasks like:
Creating and regularly sharing content,
Being visible
Building personal relationships with people in your audience,
Showcasing the value of your offer and how it solves problems (ie promoting it)
Inviting people to book a call with you.
It's less likely to include things like:
Your website
Perfect graphics
Backend automation and systems
Signing up for another webinar
Building out a course when you actually want to work with people 1-on-1
Scrolling socials looking for inspiration or the answer to your 'missing piece' or 'the big secret' that everyone else seems to know and you don't, spoiler – there isn't one.
Often the tasks that are 'comfortable' or that we believe a 'proper business' would have are nothing more than timewasters. Yes, there are projects that will be required like building a website and developing an opt-in but these are not direct revenue generators if you are not booked out. You want to identify which tasks involve direct contact with your audience, talk about the solutions you provide and invite them onto the next step.
When you identify which tasks actually link with signing clients now, not in 6 months, you will realise they take far less time than you think and can be done efficiently in your hour.
The top 3 I was doing during this time were:
Creating and sharing content
Maintaining and even increasing my visibility
Inviting people onto the next step (whether that was a free call, intensive or into 1-1, I stayed in the process and let them decide rather than jump to conclusions about what was or wasn't possible for people).
Prioritise mindset work
It may sound counter-intuitive but:
Much of the avoidance, "procrasti-learning" and sticking with the comfortable yet unimportant tasks is a result of your mindset
Imposter syndrome, perfectionism and self-doubt are so much more likely to be in the driver's seat than the myth you're feeding yourself that you don't know what to do
Start addressing the things at a deeper level that are in your way
This daily practice that will make showing up for your revenue driving tasks identified above so much easier.
The mindset work I was doing during this time was daily 10-15 mins and include a mix of the following:
Writing from my future about how I created the result I wanted
Journaling on the big vision of my business to inspire me into action
Affirmations that cemented in the new stories/beliefs I wanted to carry
The fears I had about creating the next level in my business and working through them
On particularly anxious days I add in a YouTube tapping session
Sounds simple right?
And here's the thing. It actually is.
In the past two months my daily work beyond working with my clients has come down to 3 simple tasks.
A mindset practice scheduled as the first working task of the day (10-15 mins)
Creating and sharing value based content (30-40 mins)
Promoting and inviting people onto calls with me or following up people who have previously connected with me to see how I could support them further. NB that means work with me to solve the challenges they have in their business (15-20mins)
And that's it! That's what's grown my business to 5 figure months and that's what has given me the ability to continue to sign clients with my kids home and that's what will allow me to scale from here.
I know exactly what I need to do everyday, I've got it down to an hour and there are now windows of time for me to build and create new offers to grow from here. It comes from mastering the process of booking out 1-to-1 clients first, then adding. A trait I see often is people trying to get everything out there (and either burning out, burning things down and not actually getting anywhere except frustrated). Instead my advice to you is nail your first thing first, then go from there.
If you're thinking this is too simple or there must be more or a 'secret' I'm not telling you, that's the problem. When we believe something has to be hard and complicated, we seek out the hard and complicated. We've also been ingrained to believe that we must work hard to make a good living which clouds the whole simplicity thing.
This is absolutely more than possible for you too. When you focus only on the things that drive results, you get more time, you get better at all your steps meaning they work even more effectively and you get the win of the big results while creating the life you want.
Can you boil your revenue generating activities down to 2-3 tasks per day? Consistent daily steps will quickly compound and snowball in your favour.
---
Do you need to figure out your top activities, get crystal clear on how to grow in less time and get your mindset on board to hit those 5 figure months?
I'm the coach for you!. Simply book a Discovery Call here and let's chat about creating success and freedom on your terms in your business.